Experts from Roots to Shoots
EMERGENCY RESPONSE:
07841 623027
Call us today • we can help 
Tree Surgeon in Colchester
Specialist Tree Surgery & Consultancy
Tree Surgeon in Colchester
Essex and Suffolk
Trees are a vital part of our lives. Aside from their calming aesthetics, trees are cherished homes of many animals. They also add a sense of sentiment and seasonal interest to our communities, not to mention physically keeping us alive. They should be treated with respect by professionals to keep them safe and healthy.
With 18 year's experience in the industry, JF Tree Specialists are the obvious choice for a tree surgeon in Colchester. All of our team members are fully qualified arborists with the National Proficiency Test Council (NPTC).
Using the latest technique and equipment, we can provide a wide range of services from a regular health surveys to full removal. Conveniently located in Colchester, we are able to serve across Essex and Suffolk.
Do you need a tree surgeon in Colchester? Our qualified arborists offer tree surgery throughout Essex and Suffolk. Call us today on 01206 231720.
We are Approved Contractors for large organisations, from councils to private domestic gardens. JF Tree Specialists offers a personal and professional service to all customers. We provide guidance and solutions for issues concerning the legislation, safety and welfare of trees, and local authority applications. We provide a complete range of tree care services from decompacting root zones, to complete tree removals.
Tree surgery is an art that, if carried out sympathetically, should not harm the tree; we have the experience and equipment that safeguards you and your home or property. We are devoted to the environment and also assure all potential customers that we endeavor to maintain a forward-thinking attitude in environmental sustainability. Our goal is to reduce any impact of our services, ensuring environment-friendly waste strategies are implemented throughout the company and all of our services.
Our Blog, have a read through…

Conifers are beautiful trees that are commonly found in UK gardens. If well-tendered and well-cared for, these cone-bearing trees with scale-like or needle-like leaves can dramatically increase the appeal of the garden. Apart from that, they can improve the air...
Call us today • we can help you
Tree surveys are an efficient method to diagnose any existing and potential issues within the trees and their surrounding environment. A report is sometimes required for insurance companies and to finalise mortgages, or a tree survey can also be used to appraise the health of the tree stock and identify remedial methods. 
There are multiple reasons for surveying a tree. Its the law: Land owners and occupiers have a duty of care to ensure the trees on their property are safe and not posing a threat to the health and safety of any third parties include pedestrians and neighbours. As assets, tree surveys may be required to establish the condition of your trees for insurance purposes. Some trees are more at risk of direct or indirect damage to buildings due to mechanical failure, contact of roots or tree related subsidence and a report might be required for lenders before a mortgage is finalised. 
After carrying out the survey, JF Tree Specialists can produce concise reports detailing our findings and if required, advise on remedial work.We work with councils and other local authorities in monitoring and managing the trees in the infrastructure. We provide support for Tree Officers in planning, ongoing maintenance surveys and keeping computerised records.We continually train our staff to the highest standard to offer the most professional service to our customers. We have experience in all aspects of arboriculture and tree management so whether you'd like us to survey one tree or a small forest, give us a call on 07841 623027 and see how we can help.
JF Tree Specialist Reviews & Testimonials
Lime tree surgery
Walnut tree surgery
Elm tree surgery
Holly tree surgery
Oak tree surgery
Beech tree surgery
When it comes to arboricultural services, it's vital to ensure that you employ a competent specialist with experience in the aspect of tree services that you are commissioning. Always seek advice of a qualified arborist if you need to attend to the health of a tree. Never attempt any arboricultural work if you do not have relevant experience, qualification or the correct equipment.
Our Managing Director holds a BSc in Horticulture; Level 3 Technician's certificate in Arboriculture; Professional Tree Inspector's qualification as well as a City & Guilds in Arboriculture. This means when you choose to work with us you can be sure that you are working with a leading specialist who can provide an efficient and reliable service. We are also approved contractors for large organisations and local authorities, such as councils and housing developers. 
Do you need a tree surgeon in Colchester? Our qualified arborists offer tree surgery throughout North East Essex and Suffolk. Call us today on 01206 231720 .
EMERGENCY RESPONSE:
07841 623027
Call us today on 07841 623027
We aim to provide services which keep trees healthy and thriving in its environment, but there are some instances where tree removal, or tree felling, is the best option. It is one of the most difficult aspects of arboriculture and requires extensive attention and expertise. You should never attempt tree removal without related equipment and competence. Accidents can be dangerous and costly to fix.
The removal of a tree is sometimes due to disease and decay. If a tree is diagnosed with a disease or has become hazardous, it's practical to remove the tree to protect the surrounding plants and environment. Trees may also be removed because of inconvenient locations or site development. Depending on the size and location, the tree surgeon needs to carefully plan around the surrounding infrastructure such as power cables, pipes and other properties. We are fully insured and highly skilled tree surgeons capable of handling all sizes of tree removal in Colchester, you can count on us to provide a speedy service with minimal disruption.
Our services
Tree Removal
Hedge Cutting
Tree Pruning
Professional
Veteran Tree Work
Root Zone Work
Crown Reduction
Honest
Soil Decompaction
Stump Grinding
Ask us today how we can help
Further to our outstanding arboricultural services, JF Tree Specialists are also reliable suppliers of dry, seasoned logs. We steadily have firewood for sale, perfect for the winter seasons to fill up your stock. All of our logs are carefully dried in our purpose-built facility and most are brought in from our tree pruning and felling projects. So you can be sure they are sourced in an environmentally friendly manner.
Here are some of our current prices:
£120 for 1m3 plus delivery
£235 for 2m3 plus delivery
£350 for 3m3 plus delivery
Our wood will have an average moisture content of under 20% to satisfy the new regulations governing wood burning.
Our firewood are approximately 80% hardwood, making them ideal for BBQs, wood burners and fire pits. If required, we also supply woodchip for adding mulching in the garden to suppress weeds, retain water in the soil and improve the soil condition, or an attractive ground covering for pathways or decorative landscaping.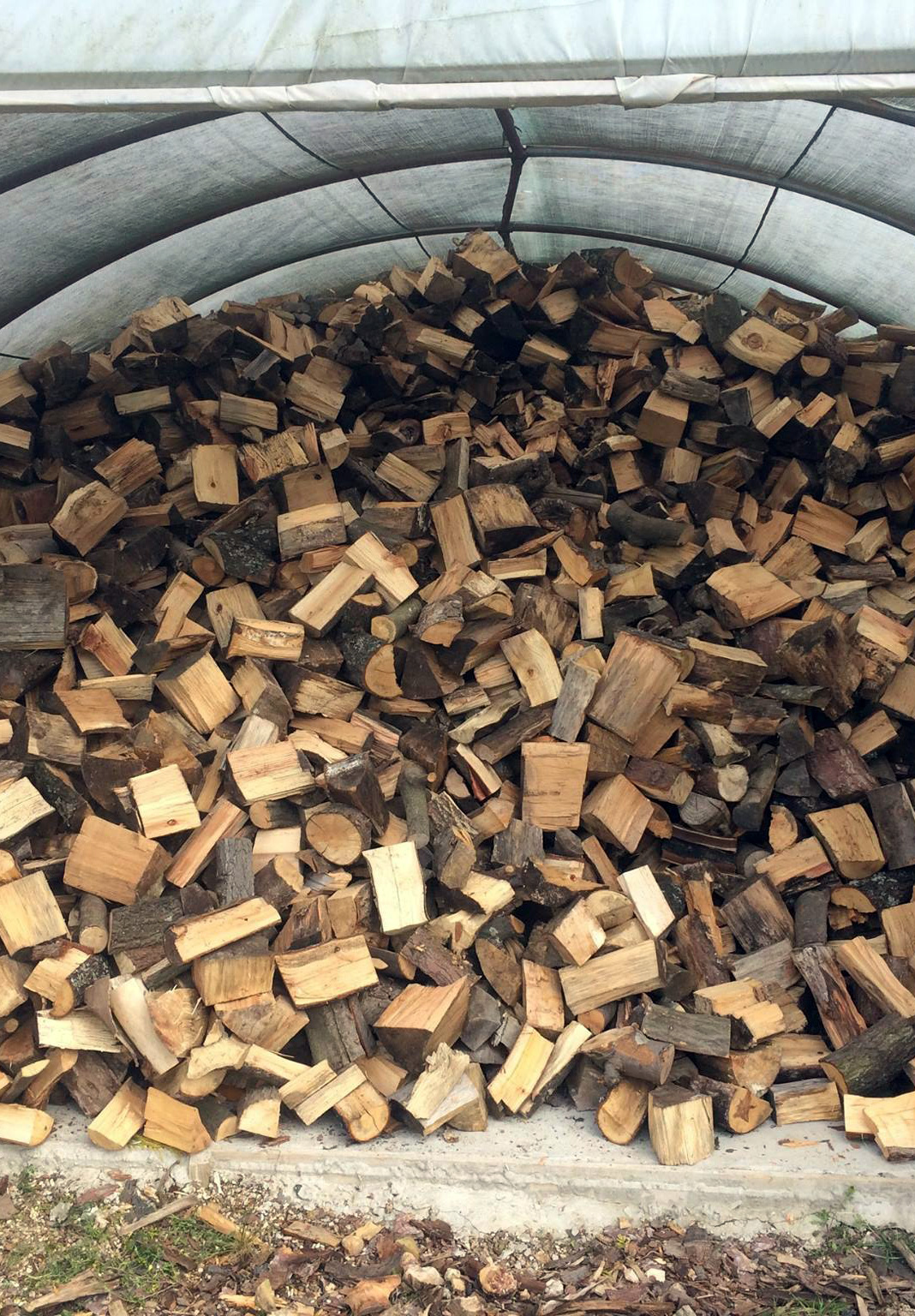 Thank you John and team for coming out so promptly and dealing with our fallen tree so efficiently. Everything was clean and tidy again in next to no time. Brilliant work!
Read more reviews and testimonials